Choose your billiard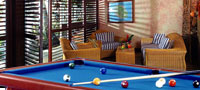 Billiard is declined in various types of plays. The Carambola (French Billiard) is a cerebral calm play and very technique. Easier to approach that the Pool American or English) is also the most convivial. Finally Snooker combines technical control and strategy.
To have its own billiard is an often inaccessible dream, for lack of place.

Except if it is equipped with a removable plate making it possible to use in dinning-room table.

The billiard table is a ludic and practical realization.
Carambola / Carom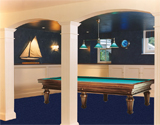 Is played with 3 balls of ø 61 mm : 1 red and 2 white dont 1 pointed.
The free part :
Fix the number of points at the beginning. Place the balls on the startings flies. Each player chooses a ball. To make a point and to continue to play, the player must "caramboler" the two other balls.
American Billiard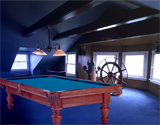 Is played on a table with 6 pockets.
Is played with 16 balls of ø 57 mm (full for 1 to 8 and ringed beyond).
Principle of the play of the 8 :
Place the balls numbered in triangle and define his camp (full or striped balle). Sink in its camp and finish by the black.
Principle of the play of the 9 :
Place the balls numbered in rhombus. The white must touch the lowerest ball numbered on the table, but the balle don't have to be sinked by numerical order. The part is winned when the 9 is sinked.
English Pool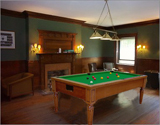 Se joue sur une table à 6 poches.
Au minimum à 2 joueurs avec 16 billes de ø 50.8 mm : 7 jaunes, 7 rouges, 1 noire n° 8 et 1 blanche.
Principe :
La première bille empochée détermine la couleur du joueur (jaune ou rouge). Le joueur jaune devra ainsi empocher toutes les billes jaunes et finir par empocher la noire n° 8.
Snooker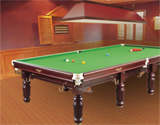 Is played on a table with 6 pockets.
At least 2 players with 16 balls of ø 50.8 mm: 
7 yellows, 7 reds, 1 black n° 8 and 1 white.
Principle :
The first sinked ball determines the color of the player (yellow or red). The yellow player will thus sink all the yellow balls and finish by sinking the black n° 8.
All our advices for billiards :